DER-YE I smoke and dust purifying integrated Dust Collector with motor fan in one structure
YE I series smoke and dust purifying integrated equipment adopts integrated design, which provides the perfect solution for different smoke and dust. It features in compact structure, reasonable, blower built-in structure, small area, can be set indoor and outdoor. It also can matched different collection units for collecting the smoke and dust of large welding, grinding and welding center, robot welding production line. We can design the best suitable solution way according to the customers' different working site condition.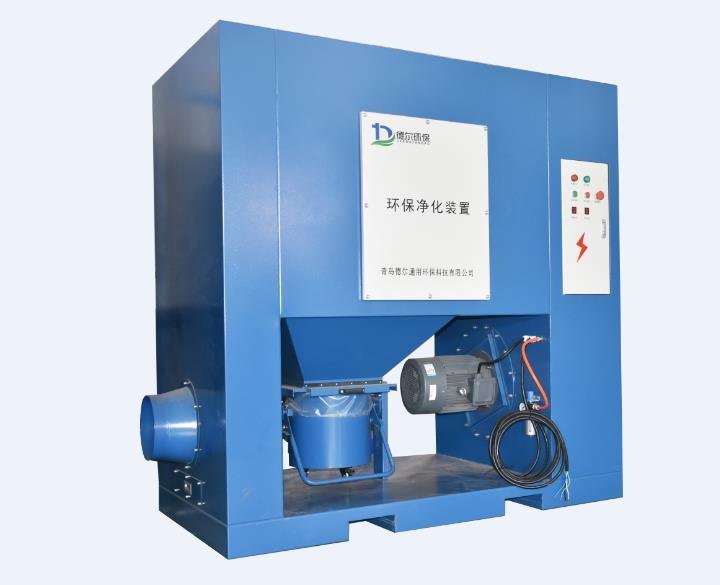 Structure characteristics
1,A guide plate is arranged at the air inlet, suction platform to prevent dust from directly impacting the filter cartridge.So the filter cartridge can be longer life service.
2,The fan adopts high efficiency centrifugal fan, which features in high efficiency and smooth operation.
3,In order to prevent noise pollution, noise reduction is applied to the fan.
4, The workbench and dust removal funcion get together. directly in the source of dust removal.
5,Compact structure, small floor area, double station or multi station operation can be operated at the same time.
6,The filter media can be selected according to the dust characters, which has met the requirements of different properties dust removal.
7,The filter barrel with long life service, stable performance and easy change.
8,There are inlet scoop on the bottom/front and top of the workbench, which can effectively control the dust flying.
9,Equipped with new type low noise fan, constant exhaust gas volume and lower noise, which can
ensure the health of the operating worker.
10,The pulse and blow back automatic cleaning can ensure that the equipment is always in good working condition.
11, The drawer type dust collector ensures the quick and convenient dust pouring.
Model

Exhaust volume m3/h

Filter area




m2

Filter efficiency %

Voltage




V/Hz

Power kw

Size




mm

DER-YEI-4

2200-3000

26

99.9

380/50

3

1300*1100*1700

DER-YEI-6

3500-4500

39

99.9

380/50

5.5

1300*1100*1700

DER-YEI-8

4800-6500

52

99.9

380/50

5.5

1600*1100*1700

DER-YEI-12

7500-8600

78

99.9

380/50

7.5

2250*2077*1720/1400

DER-YEI-15

8900-9750

97.5

99.9

380/50

11

2950*2077*1720/1400
Project Case