DER-XF CYCLONE DUST COLLECTOR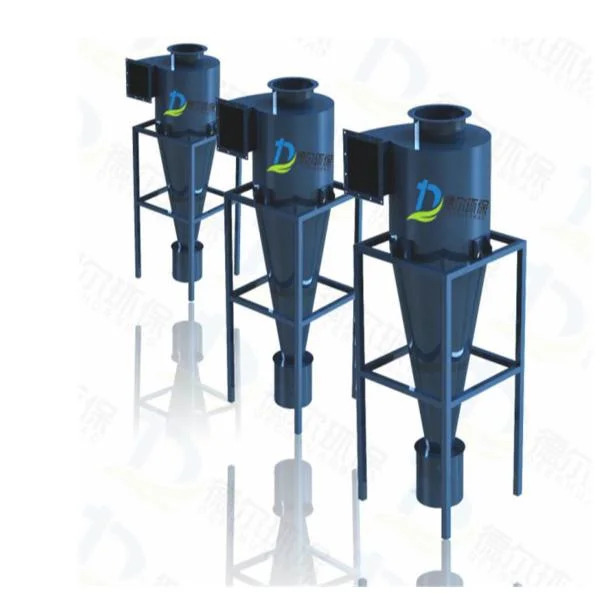 The cyclone dust collector is the preprocessor of the dust removal device, which features in reasonable design and simple structure.
It adopts axial entry mode, airflow distribution uniformity, and the outside the round barrel of the cyclone dust collector is spiral linear bypass separation chamber, and the dust air cutting line enters the barrel with spiral airflow.
Moving downward along the barrel wall and the bypass separation chamber, the dust is separated by centrifugal force and used to remove big density and dry non-fibrous dust. The dust removal efficiency can reach 85-95%.
It's suitable for smelting, forging, sandblasting, building materials and refractories and other industries can also be used for the collection of coarse materials and the primary dedusting for the dust removal system.
Product features
1,Suitable for use as a primary or pre-filter to capture and separate 5-10um or more dust with high efficiency.
2,The equipment has small resistance, large exhaust gas volume and stable performance.
3,Small floor area, simple structure, easy installation and maintenance.
4, Automatic dust removal and gate valve dust removal.
Technical parameter
| | | |
| --- | --- | --- |
| Model | Exhaust volume m3/h | Size (diameter *Height) mm |
| XF-2500 | 2000-3000 | ¢700*2600 |
| XF-4000 | 3000-5000 | ¢800*2800 |
| XF-7000 | 5000-8000 | ¢900*3000 |
| XF-10000 | 8000-12000 | ¢1000*3200 |
| XF-13000 | 12000-15000 | ¢1100*3300 |
| XF-17000 | 15000-20000 | ¢1200*3500 |
| XF-22000 | 20000-25000 | ¢1200*3700 |
| XF-30000 | 25000-32000 | ¢1300*4000 |
Project case: