Welding cutting grinding fume exhaust with 160mm flexible extraction arm
It's a well-known fact that welding produces fumes, otherwise known as welding fumes or gases. These fumes contain argon, carbon monoxide, carbon dioxide, and hydrogen fluoride gases, among others. Besides, these fumes contain a variety of metals arsenic, aluminum, beryllium, arsenic, manganese, and lead.

Welding Fume Extractors are designed to be utilized as an engineering safety control to protect users from the occupational hazards presented with various welding applications.

Use for purification of the smoke and dust during the welding, polishing, cutting, grinding process and the recycling of rare metals and precious material, can purify large amounts of suspended small metallic particles in the air.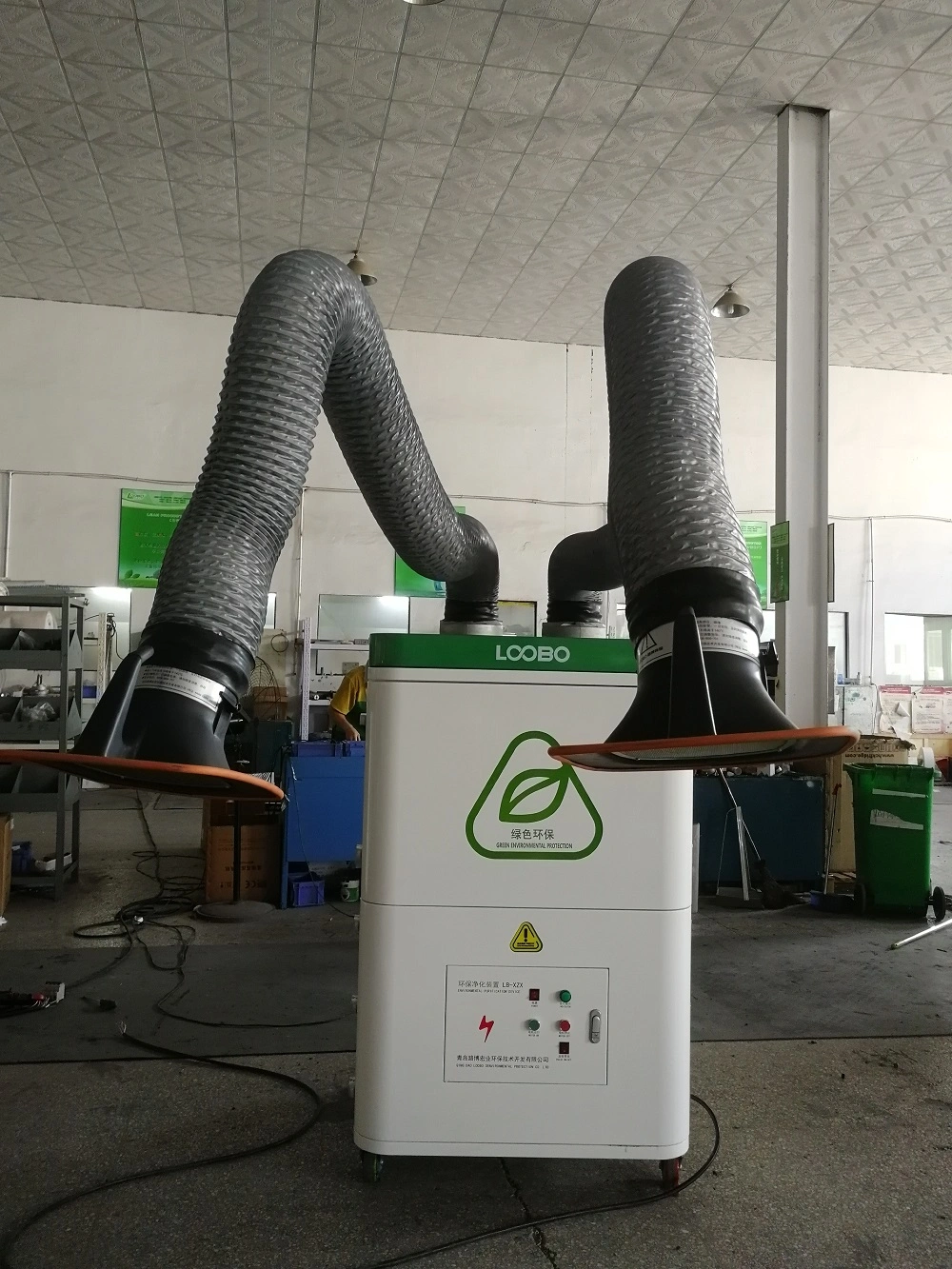 Operating Principle
It is equipped with three layer filter system
1, under the help of the fan device, the welding fume is sucked into inlet through sucking hood. There is the flame arrester in the inlet, so the spark can be blocked here, the left fume and dust is sucked into gravity separator, and then the bigger particles firstly descend into dust bag.
2, the smaller particles are arrested in the surface of core filter. The cleaner gas then flow into clean room after being purified by core filters.
3, in clean room, the clean gas is then further purified by active carbon. At last, the gas meets the required standards and enters into air or other required room.
**The basic Stage Filtration Process about the welding fume extractor
Stage 1: Air passes trhough the pre-filter fire-proof net.
Stage 2: Air passes through a second pre-separator to further reduce medium to heavy particulate matter.
Stage 3: Air passes through the LongLife-H filter where welding fume particles are captured and deposited.
**Technial Parameter :
Model

Airflow

(M3/h)

Voltage(V)

Power(Kw)

SizeLxWxH (mm)

Compressed

air(mpa)

NoiseDb(A)

LB-JZX2400

2400

380V/50/3PH

2.2

900*800*1400

0.5-0.6

≤75

LB-JZX3600

3600

3.0

900*800*1400

≤78

LB-JZX4800

4800

4.0

900*800*1400

≤78

LB-JZX2400S

2400

2.2

900*800*1400

≤75

LB-JZX3600S

3600

3.0

900*800*1400

≤78

LB-JZX4800S

4800

4.0

900*800*1400

≤78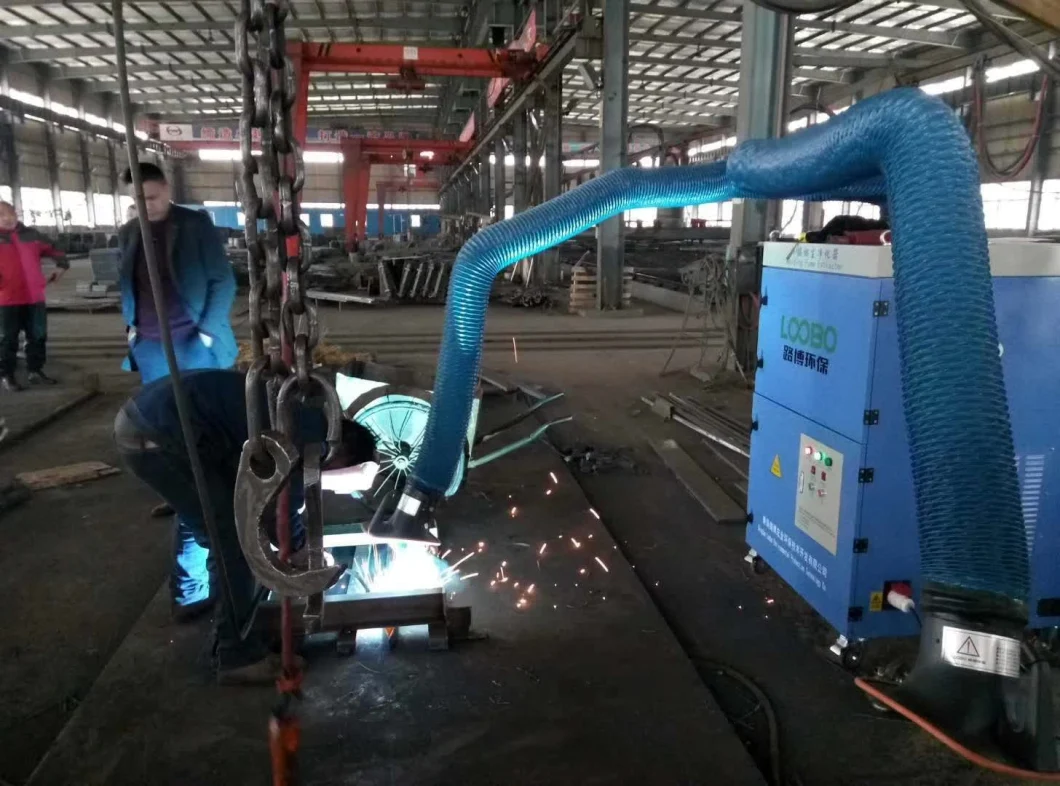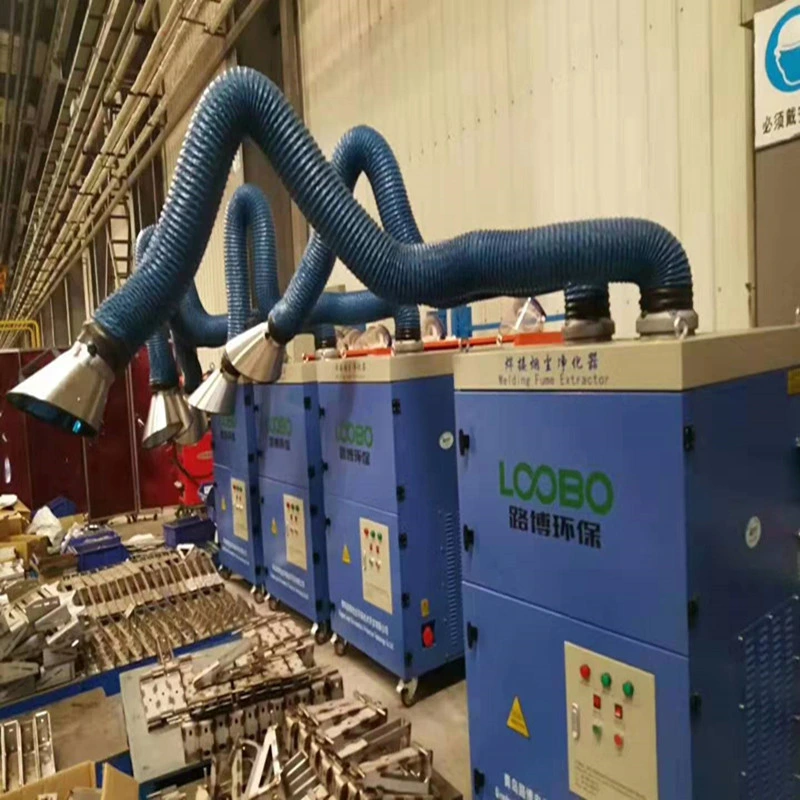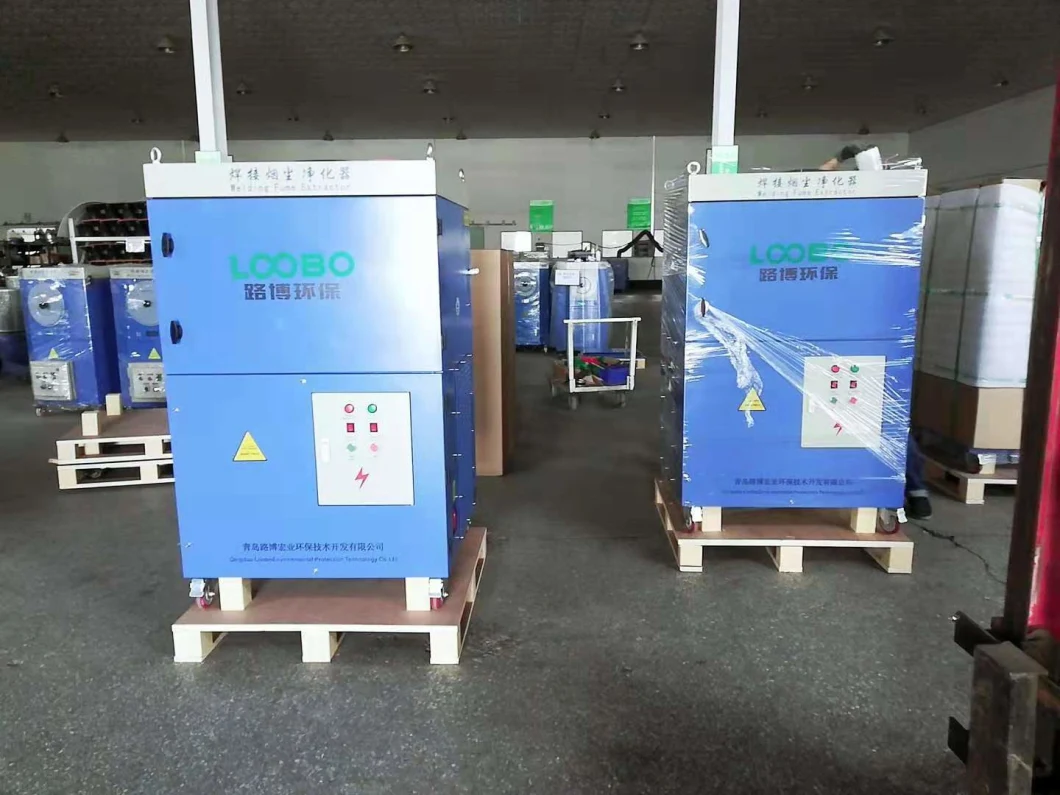 ***Facility Characteristics
1) It is equipped with Siemens turbo fan and motor imported from Germany and America, with overload prevention circle to avoid motor damage. It is of steady performance.
2) It is equipped with built-in centralized PLC controlling system. The operation panel is clear and simple, very easy to operate.
3) Pulsing back-flushing automatic dust-removal system: The filter core is the automatic rotating and back-flushing type, which keeps the filter core surface clean when working, to insure the stable blowing rate; the air compressor parts are connected with high pressure rubber pipe with high pressure air-inflow in the bottom, which insure the facility always in good working condition.
4) The filter core is imported from America with long useful life. It can arrest the 0.3μm particles. The filtering effect is good for all kinds of particles including the wet particles.
5) It is equipped with the all-directions sucking arm of 360 degree rotating. It can suck the fume exactly from the source which make best of the fume collection efficiency, and insure the workers' health in the largest extent.
6) It is equipped with three layer filter system to avoid the damage effect of flame and large slag particles, which extend the useful life, safer and more reliable.
7) Clean air uniform guidance and dispersed from the grille outlet, to keep the noise minimum.
8) It is attached with all-direction caster wheels, which makes the facility movable freely and easy to position.
9) Photoelectric controlled on/off, energy saving and high efficiency. The hood has the lighting device which is upon customer's choice.
10) The parts working condition are all stable and have long useful life, meantime easy to be replaced.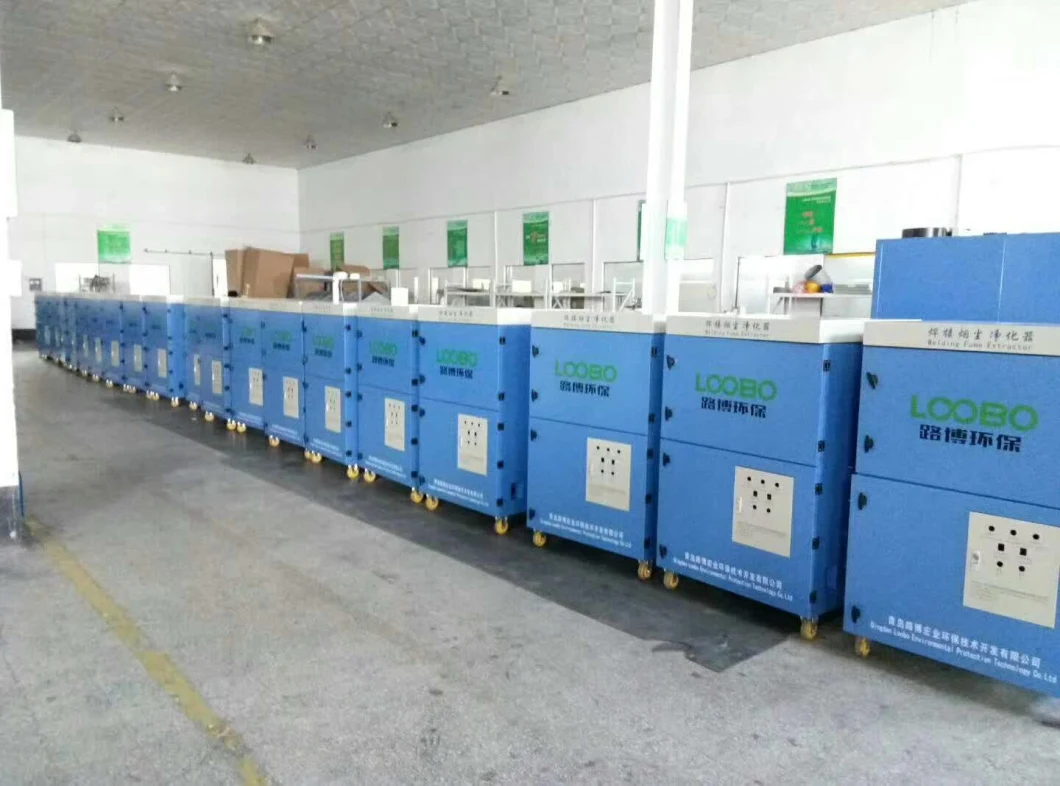 Company information:
Qingdao Loobo Environmental Protection Technology Co.,Ltd is one of the biggest enviromental protection products manufacturer, located in Qingdao city of china,specialized in alll kinds of portable fume extractor, downdraft benches(grinding dust removal worktable), central fume purification system, flexible suction arm,etc.

We have more than ten years export experience ,all of our products with the ISO9001 and CE certification, the quality can be guaranteed.

We have our own R&D department , have a variety of style range to meet any of your requirments and had established the economies of scale, so can dilivery fast and provide can beat your competitor's price.
Best Regards
Miss Amy
Tel:86-13656390156